2010 Year of the Tiger
2010 Year of the Tiger 02/14/2010 to 02/02/2011 (Metal)
2010 is the year of the metal Tiger as per Chinese astrology and it will be really a hard working and vigorous year. Chinese astrology is different from the vedic astrology as the calculations are not done according to the position of Sun, planets and stars at the time of birth. Sixty year cycle is followed to calculate the year of the particular animal. Along with this five elements and heaven are also considered in Chinese astrology to do the calculations and for Chinese astrology horoscope. There are 12 animals that contain sixty years. These animals are rat, ox, tiger, rabbit, dragon, snake, horse, goat, monkey, rooster, dog and boar.
Tiger is placed at position three among other signs and recur after every twelve years and 2010 year of tiger forecast says that this is a very favorable year. Also according to the 2010 year of tiger predictions there will be ups and downs in the economy but the challenges will be met and successful results will be there.
Chinese name for the Tiger years:
HU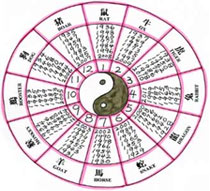 Western Counterpart:
Aquarius
Positive Characteristics:
Courageous nature, honesty, positive attitude, friendly, charming, lovable, warm hearted, pleasant, independent
Negative Characteristics:
Short-tempered, rash, quarrelsome, moody, predator, disobedient
Tiger's compatibility:
Dog, Horse, Dragon
Less Compatible with:
Rat, Ox, Rabbit, Tiger, Pig
Least Compatible with:
Rooster, Snake, Monkey
Yin/Yang:
Yang
Lucky Numbers:
4, 5, 7, 9, 13, 34, 44, 45, 54
2010 year of Metal tiger is 27th year in the complete sixty-year cycle in Chinese astrology. There will be lots of good changes in the year 2010 of metal tiger. According to Chinese astrology, Tiger averts thieves, ghosts and fire that are three main malefic things for any home. There will be love in the air as the beginning of 2010 metal tiger year is on 14th February which is the St. Valentine's day made for the people who are in love. The luck can further be improved in 2010 metal tiger year by giving silver metal gifts as this metal symbolizes the tiger. People born in the year of Sheep, Horse, Dog, Tiger, Ox or Dragon can start anything new in 2010 year of Tiger as per Chinese astrology as these years are compatible with Tiger. Whereas people born in Rabbit, Monkey or Rooster year need to try hard for good luck. For the remaining animals the 2010 year of Tiger will be neutral.
The tiger year is further characterized by the five elements that are also called Chinese elements. These are:
Metal: Metal tiger 1950 and 2010
Water: Water tiger 1902 and 1962
Wood: Wood tiger 1914 and 1974
Fire: Fire tiger 1926 and 1986
Earth: Earth tiger 1938 and 1998
2010 Year of Metal Tiger Characteristics

The Metal element is known for sharpness and speed. This can be seen in the thoughts and actions of people born in the metal tiger year. Mood swings and temper tantrums will also be seen in these people. People born in the 2010 year of the tiger will be very courageous, clever and attentive. Success and happiness will be the part of their lives as tiger people have the fighting spirit that makes them going. But they also react very quickly and reach to the conclusion without must investigation, which can create problems. 2010 year tiger people are very charming so liked by all and stand out in the crowd. The actions of the tiger should never be underestimated. Sometime these people look very placid but their actions are really unpredictable. 2010 year of tiger people are born to lead, very straight forward and moody.
These people love to take challenges, visiting unusual places, making friends and face any type of danger. Unpredictable things in life interests tiger people. Their will-power, determination and optimistic nature is greatly admired by their friends. 2010 year of metal tiger people if cannot achieve what they are looking for can become very self-centered and inflexible.
Tiger Health Burst of energy is the part of metal tiger personalities' health. This can really affect their health in the long run. But on the other hand they can very quickly recover from the bad health and any pain. They must control their energy in order to have good health.
2010 Year of Metal Tiger Career Any work that needs hard work and dynamism is the part of tiger career. They can complete any task with enthusiasm and vigor. Tiger can work as an entrepreneur, military officer, politician, writer, poet, designer, stockbroker, athlete, trade union leader,director, stunt person, teacher.
Tigers are very fast learners but they get bored from one type of job so often they are seen changing their career.
Famous Tiger Personalities Demi Moore, Marilyn Monroe, Frederick Forsyth, Jodie Foster