Love Astrology
Love astrology predicts the love relationship between the two zodiacs. Every individual as per Indian astrology is guided by the position of stars, planet and Sun at his or her birth time. Any change in these keep on influencing the life's event and when two individuals meet each other then their constellations at the time of birth surely put some effect on each other. So the love between any two individuals is not the same. The love astrology can predict the type of relationship that two individual will share, their love compatibility, way of thinking and taking the life. You can go for the astrology love match to check your compatibility and know how far your relationship can go. If you have any doubt or problems in your love relationship then also you can consult the experienced astrologer to find out the doshas or faults and tell you the remedies for the same.
So astrology for love, reveals the truth about ones love life. It helps to understand your heart, your love and your partner. So you can definitely find answers to all the questions and detailed answer about your love life based on the sun signs of self and your partner. It offers solutions to problems of those looking for a partner, those already in love and those willing to reunite.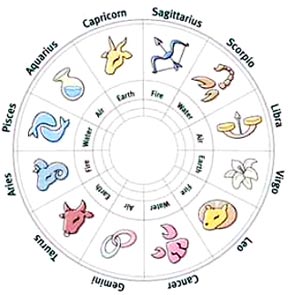 Thinking, traits, and sexual compatibility is taken up in the Indian astrology, which then uses the sophisticated system to analyze the match. The love compatibility report, gives a detailed description of - Mental (thinking & intellectual) compatibility; Physical compatibility; Wealth & luck generated due to the match; Longevity of attraction between the couple; Longevity of life of each spouse; Growth of family/ Children etc. The reports of love given by Indian astrology encompasses both the astrology compatibility and astrology sign compatibility along with many more minor details.
It therefore helps seek answer to various questions, which are as follows:
Am I unlucky in love?
When will I get married?
Does he/she love me?
Are we sexually compatible?
When will I meet soul mate?
The magic mantra to make him/her fall in love with you.
How many relationships will I have in life?
Am I destined for marital bliss?
Will it be better to remain single?
Astrology Love Compatibility of Twelve Zodiac Signs
Aries Love Astrology (March 21-April 19) Aries is ruled by Mars and a fire sign. Aries are very passionate and romantic personalities who need very intimate relationship. Aries love astrology further says that as they are the fire sign so they need someone who can match their energy and passion. They are always ready to take risk for their love. They are the true lover and can do anything when they fall in love.
Astrology Love Compatibility: They are the most compatible with Leo but also go very well with Gemini, Sagittarius and Aquarius.
Taurus Love Astrology (April 20 - May 20) Taurus are very shy personalities who want to spend time at their home but they do have a strong sexual desires. They are not that energetic to start love but they catch up slowly. So you really need to show some patience. Both Taurean man and woman are sensual, steady and look for long lasting love relationship.
Astrology Love Match: Best match is Leo and the worst match is with Sagittarius.
Gemini Astrology Love Compatibility (May 21 - June 21) Gemini is the complete bundle of intellect and mind and any Gemini is aroused by the intellect of other person. It is the mind not the body that attracts Gemini. Geminis are very warm lovers and generally very witty and amusing when it comes to love. Variety and change act as a spice for them and they never hesitate to experiment in their love life as well. Love astrology of Gemini reveals that they are also very blunt at times. But overall you will have a quality time with Gemini.
Astrology Love Match: Best match is Libra and the worst match is with Virgo. Gemini are also compatible with Aries, Leo, Aquarius and Gemini.
Cancer Love Astrology (June 22 - July 22) Very emotional, Cancer really look for the touch for sensual feeling. They look very dry from outside but they are really very warm and affectionate personalities. Love astrology sign says that they are really very moody, sensitive and creative. So love for them is more of commitment than just love or physical relationship.
Astrology Love Match: Best match is with Taurus and the worst match is with Aries. They are also compatible with Pisces, Taurus, Scorpio and Virgo.
Leo Astrology Love Compatibility (July 23 - Aug 22) Leo is the fire sign and a very passionate lover. They take full charge in love and look like a majestic king in the jungle. It is better to praise Leo for most of the time as you cannot please Leo if you have hurt his or her ego. Leo needs every thing in a grandeur form same goes with the love.
Astrology Love Match:Best match is with Aries and the worst match is with Scorpio. They are also compatible with Gemini and Sagittarius.
Virgo Astrology Love Compatibility (Aug 23 - Sept 22) Virgo looks calm but they are not when it comes to love. They are very caring and as a lover also they always want to protect their partner instead of enjoying the desires. They make fantasies and really want that their partner should understand what they are thinking. If you can understand him or her you can have the most passionate lover.
Astrology Love Match: Best match is Pisces and worst match is Aquarius. Virgo also has the love compatibility with Taurus, Capricorn, Cancer and Scorpio.
Libra Love Astrology (Sept 23 - Oct 22) Libra are very passionate lovers and enjoy life. Charming Libra is master in lovemaking. But the other person need to show patience as they have strong and passionate fantasies that they want to fulfill to the fullest.
Astrology Love Match:Best match is with Aquarius and the worst match is with Virgo. They also have love match with Scorpio, Pisces and Leo.
Scorpio Love Astrology (Oct 23 - Nov 21) Scorpio is the most sexual zodiac sign but very violent and volatile. Scorpio has the tendency to use you while loving you so beware of this part of him or her.
Astrology Love Match: Most compatible with Taurus and least with Aries. Also they have love match compatibility with Taurus, Cancer and Libra.
Sagittarius Love Astrology (Nov 22 - Dec 21) Sagittarius people love to explore things and full of fun. Their confined nature will not allow you to enter into their space. Sagittarius love astrology says that they are true lovers and adventurous in love making. They always perform to win and get bored from one person very easily if they are not deeply attached.
Astrology Love Match: Most compatible with Leo and least compatible with Capricorn. Sagittarius astrology horoscope love is also there with Gemini, Aries and Aquarius.
Capricorn Love Astrology (Dec 22 - Jan 19) Capricorn is a stable sign and has earth element associated with it. They will never make the first move and wait for their partner to start love. Capricorn in most of the cases miss the fun of life as they want to stay alone and make love without much emotional involvement.
Astrology Love Match: Best match is with Virgo and least compatibility is with Sagittarius. Also astrology horoscope live match is seen with Taurus, Cancer and Capricorn.
Aquarius Love Compatibility (Jan 20 - Feb 18) Aquarius like Gemini is an air sign that is unpredictable. So love life with Aquarius will be full of fun and excitement. The other partner must understand that making love is totally for fun and there should not be any emotional involvement in this. They are very imaginative and experimental in nature.
Astrology Love Match: Best match is Libra and worst match for Aquarius is Taurus. They also go well with Gemini, Sagittarius and Aries.
Pisces Love Astrology (Feb 19 - March 20) Pisces are very sensitive people and love for them is for enjoyment purposes. They always want to fulfill the needs and desires of his or her partner.
Astrology Love Match: Best match is with Pisces and the worst is with Sagittarius. They are also compatible with Taurus, Cancer and Capricorn.
Love Match Compatibility
Astrology
Astrology Match
Pro Astro
Related Article
Love Marriage Prediction in Astrology
Related Topics of Interest

Sex & the Galaxy

LoveScopes

RomanticScopes

Cosmos Love