2010 Love Horoscope This Valentine
Valentine day or St Valentine days is made for the lovers who express their feeling to each other on this day. Exchange of love notes, cards, gifts is done on Valentine's day. Some people know what their lover wants but even if you do not know then also do not get disappointed as here we are giving different zodiacs and ways to impress them. So if you are confused on how to impress your lover this Valentine then check Valentine's day horoscope and based on the the zodiac sign find out what he or she will like. Plan your day according to that to impress your lover.
Read here how can you impress different zodiac sign people on this valentine day and what the love horoscope for each zodiac predicts.
Aries Impressing Aries is not that simple as you will have to be very strong and bold. Never try to dominate Aries as they always want to dominate. Cuddle them and bring love intellectual conversation with your Aries partner. Do something that you have never done before. You idea should be unique and it does not matter how big or small an idea is.
Aries Love Horoscope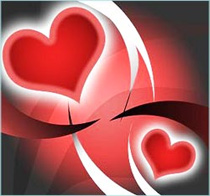 2010 is the year for Aries and destiny will bestow its blessing on you. Aries should not talk about past period and keep moving. Aries love horoscope says that love matters need extra care as your Saturn is in sixth position this year. Aries will have be more courteous to seniors and parent for their love. Initial period of the year requires more attention from you for your loved ones.
Taurus Give your Taurus partner a nice candle light dinner as they really admire food and wine. So be a good host this Valentine's day.
Taurus Love Horoscope Taurus love horoscope for 2010 predicts the strong bonds. You will support your lover in all circumstances. But avoid using your soft skills either too much or too less as these are your strength. Marriage, love life and family is on the way in 2010.
Saturn
will disturb your peace in the mid of year.
Rahu
and
Ketu
will influence some Taureans and thus they will develop flirtatious love. Express your thoughts in a right way and think before your start any relationship to make it ever lasting.
Gemini Do not repeat things and never create a boring atmosphere for the effervescent Geminis. Geminis love intellectual talks, fast things and change. You can write a love story for them and make collage of your past pictures for them. Give these as Valentine day present. They will simply adore this.
Gemini Love Horoscope Love life of Gemini will be average so they must utilize this time for personality development. Positive things are expected to happen in November 2010 so you will have to be extra cautious regarding love matters and love relationship.
Cancer Do you have enough patience. If yes then your Valentine day will be sparkling this year as Cancerians enjoy every moment. Also be polite so that they interact with you in a romantic way.
Cancer Love Horoscope This year Cancer people wont make any serious commitments as your emotions will be under your control. Marriage is on cards and bachelors can expect it after October. Even the divorced Cancerians will get their life partners this year. People who are married will face certain problems in family so from family point of view it will an average year. You can expect new member in your family. With this your economic condition will also improve.
Leo Always keep words to praise Leos. This will impress them and make your Valentine's day a very special one.
Leo Love Horoscope Leo love horoscope tells that their old relationships are in air again and new bonding between them is expected in 2010. You will have too many friends around you but will get support only from trustworthy friends. If you are married then you can expect good love life in 2010. But if you are thinking of getting divorce this year then it wont happen this year.
Virgo Never go illogical with Virgo and just try to impress them with healthy things. Virgos are the most sensible of all zodiacs but be romantic on the Valentine day to check the naughty side of Virgo.
Virgo Love Horoscope Love and romance are in air for 2010. Young females will get their life partner this year and also the married couple will enjoy their love life. Virgo love horoscope further says that the unmarried people will find their partners but they must understand the difference between liking, crush and love. You can be misunderstood by your partner so be cautious and control your behaviour.
Libra Libra is the most balanced zodiac sign. So anything out of balance is surely not a good thing to do this valentine day to impress your love. You can please Libra with interesting Ideas. Give him or her a flower bouquet or give a sophisticated gift.
Libra Love Horoscope 2010 is the year of love, marriage and family for Libra. Unmarried people who are waiting for their life partners will get married this year. Bachelors will find their lovers and partners this year. You will maintain more transparency in your relationship as Rahu and Ketu are in 4th and 10th house. This year you will not have any health problem and will have peaceful mind. But be cautious when you will share your feelings with someone.
Scorpio Mystery is part of Scorpio so create an atmosphere of mystery for Scorpio on this Valentine. Give clues to find what is stored for them. You can plan a dinner and through clues he or she can reach at the dinner place.
Scorpio Love Horoscope Scorpio love horoscope tells that divorcee will find their life partner this year but you will get opposition from your family members. For married Scorpios it is a very good year. Do not bring your work at home. In the month of May and June you can have some conflicts with your partner.
Sagittarius Your Sagittarius lover loves the traveling and tours. So if your budget allows you can plan a trip for two for valentine day. But if this is not possible then collect traveling pictures, brochures and traveling information that can be utilized to plan a trip in future.
Sagittarius Love Horoscope Your victory over matters related to love is definite. You may not be satisfied emotionally but you will be satisfied physically. So because of this there will be difference in the thinking. Sagittarius might think of entering into new relationship. You will get rid of all your family problems.
Capricorn Create an atmosphere of calmness for Capricorns. Capricorn love past. So if you want to impress your Capricorn lover then bring back the past when you met him or her, what you did and stuff like that. You can pick the same place for dinner on this Valentine also. This will create a romantic atmosphere for Capricorn.
Capricorn Love Horoscope Although marriage is on cards but yet it has to be postponed as your Jupiter is in 3rd house which is not favourable. Single Capricorn will see new relationships and also their old relationships will be refreshed. Young and good looking Capricorn must avoid immoral love affair as it is harmful for them. Because of this there can be misunderstandings in the family. So as per Capricorn love horoscope they must avoid that.
Aquarius Aquarius loves scientific things. Therefore give them electronic gadget like ipod, iphone or MP3 this valentine's day.
Aquarius Love Horoscope Aquarius love horoscope clearly shows the sign of great love life in 2010. Working Aquarius will get marriage proposal and all your wishes will come true this year. Single individual will also get their love partner this year. Married Aquarius will have baby this year.
Pisces Pisces love strong people and they are very spiritual. Supernatural things are their favorite pass time. On this Valentine day you can give a love note to Pisces on a serene place not directly but beautifully placed in some wrapping. Then check out the smile and love for you after that.
Pisces Love Horoscope The year 2010 is full of surprises for Pisces. Married couple will see journey and enjoy their life. Your family life in 2010 will be good as Saturn is in good position.